We bring home decor to life with unique botanical impressions
Galleries
____________
Botanical designs for a variety of functional applications are available using plant material from B.C. native flora such as ferns, vine maple, and wildflowers, and from exotic garden flora such as magnolia, ginkgo and hydrangea.
The botanical artwork and palette of flora can be customized to suit your needs, giving one design options for "bringing nature indoors" and, where needed, having privacy, or dissolving boundaries between garden and home. Botanical glass panes or shoji panels can harmoniously connect inside spaces with the seasonal vistas of the outside landscape or provide a florascape for situations where there is no landscape view or where a degree of privacy is wanted.
Custom design, prints, furniture and more
Working with a craftsman of custom Japanese shoji and a specialist in glass lamination, botanical artwork printed on media such as shoji paper, glass or vinyl film is suitable for a variety of d?cors and interior design applications. These include folding shoji screens, panels, divider walls, glass table tops, glass cabinet windows and much more."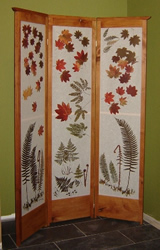 Botanical Shoji Screen

We work with Tim Ewart Custom Design and West Coast Shoji to create custom designed Shoji screens.

Decorative Botanical Glass

We added a variety of botanicals to decorative glass.

Unique Botanical Prints

We have prints of Maples, Ferns, Wildflowers, Ginkgos and more.