Main Products
Shoji Screen and Panel Walls
The application of Botanical Impressions onto custom furniture is an excellent application of bringing nature indoors. Below are two examples of this. The first a folding shoji screen, the second a curtain panel.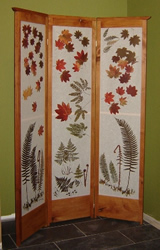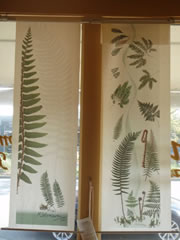 Shoji Screen by: Tim Ewart Designs.
www.customjapanesefurniture.com
and
West Coast Shoji
www.westcoastshoji.com
Prints
As you may have noticed in the gallery section, I have a large selection of prints. You'll find variety of size and Botanicals to choose from.

Product Ideas
Decorative Glass, Walls, Windows, Glass Table Top
On the products below, botanical designs have been printed on glass (opaque or translucent) or printed on a vinyl film and applied to the glass. This application can be used on windows, doors, glass elevators, shower enclosures, or as room dividers.
Which home decor piece would you like botanical impressions printed on?